The agreement covers an initial four such farms, based predominantly in the UK, to be delivered over the next three years and provides a framework for serving global customers. The total value of the agreement, including all project options, reaches over 10 million euros. The rapidly growing vertical farming market has been predicted to grow to 10 billion USD by 2025.
Niko Kivioja, CEO, Netled Oy, confirmed: "We have been developing our technology for vertical farming for several years now. During this time the market for vertical farming has developed very fast. Now the technology and the economic figures are in the point, where industrial scale vertical farms beat the traditional ways to grow leafy greens. Green field projects require quite massive design work for infrastructure. We are more than happy to present our partner, Astwood Infrastructure. Together we have possibility to serve global market with an all-inclusive project offering."
Netled designs, manufactures and sells world leading technology, equipment and related automation and software for vertical farming, where its vertical farm Vera® is the most advanced vertical farming system in the world.
Astwood Infrastructure is a technology company with a focus on sustainable design and engineering. The company has significant know-how in commercialising technologies. For vertical farming, the company has developed its own brand, Vertivore, based on 3 years' worth of research into the sector. Astwood will be working with specialist technology providers like Netled to build a position as a market leading operator and supplier of vertical farm solutions.
A pilot facility, the first under the framework, is built and is in continuous use in Redditch, UK. The long term focus of Netled and Astwood is on industrial scale growing. The production volumes are planned to be millions of heads of lettuces and herbs annually.
Mike Capewell, CEO for Astwood Infrastructure, added: "We are incredibly excited about our new agreement with Netled Oy and the opportunity we now have in building and scaling a UK wide and potentially global vertical farm operation. Our pilot farm has shown some incredibly exciting results and we feel optimistic that we will be able to replicate this success at scale."

"As issues like rising import costs and climate change continue to advance, vertical farming systems will become critical to production, where, through the Vertivore brand, we will be able to grow sustainable, local and clean produce without being impacted by any external sources such as weather conditions or pollution."
Closed vertical farming systems, like the one currently being piloted by Astwood, are protected from extreme weather conditions, pollution and lack of freshwater resources as the growing conditions are created artificially. As a result, vertical farming makes cultivation possible in areas where production of traditional vegetables is impossible, and the freshwater resources are limited, whilst also improving quality, production speed and yield.
For more information, visit:
https://www.astwoodgroup.com
Editor's Notes
Netled Oy
Netled offers vertical farming systems and innovative greenhouse lighting solutions. Netled's vertical farms are sold under the brand name Vera®. The world leading technology has already been delivered to multiple producers for commercial use. Netled was founded in 2007 in Finland. It employs 10 multidisciplinary experts. For more information, please visit our website www.netled.fi.
Astwood Infrastructure
Astwood Infrastructure Limited is operating at the cutting edge of vertical farming technology. It has, along with specialist technology providers, developed, a sustainable, reliable indoor vertical food production facility that can be located virtually anywhere.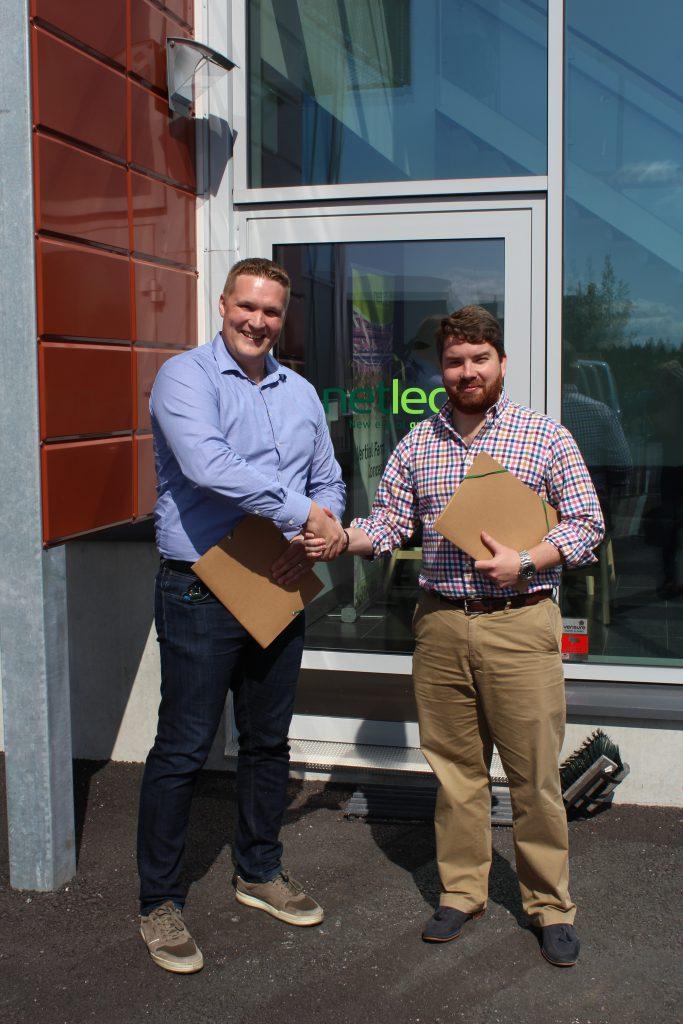 Photo: Niko Kivioja, CEO of Netled (on the left) and Mike Capewell, CEO of Astwood  Infrastructure.
Updated 16.03.2021: Netled and Astwood Infrastructure signed a supply contract in September 2019. However, Astwood's funders decided to pull out before the project could be realised, and the company filed for bankruptcy at the end of 2019. The bankruptcy ended the contract between Netled and Astwood, and Netled did not have any receivables from the bankruptcy estate.
The test facility built by Astwood was bought from the bankcruptcy estate by another actor in the field, and we began negotiations with them about further investments in the Vera equipment. Ultimately, the terms of the deal were sufficiently unsatisfactory that Netled withdrew from these negotiations. A future deal with the actor is not completely ruled out, but there are no active negotiations ongoing at this moment.
Hannah Haffield
hhaffield@makemorenoise.co.uk
0121 312 1177/ 07939 468 567